What is Digital Customer Service (DCS)?
Position your health plan to meet the unique needs of your entire member population with Digital Customer Service.
With Digital Customer Service (DCS), your health plan can gain a competitive market advantage while improving your member relationships. The goal of a DCS strategy is to empower health plan members to take control of their own health and wellness.
Your plan can use Digital Customer Service to give members access to relevant health and wellness resources—and connect them to staff members when they need support. This kind of digital engagement allows you to provide customized information and services to all members.
Navigating the healthcare system can be confusing. Offering a digital approach to customer service ensures your members will always know where to start. This is not a technology-only strategy—the key to successfully using DCS is having a human being behind every member interaction.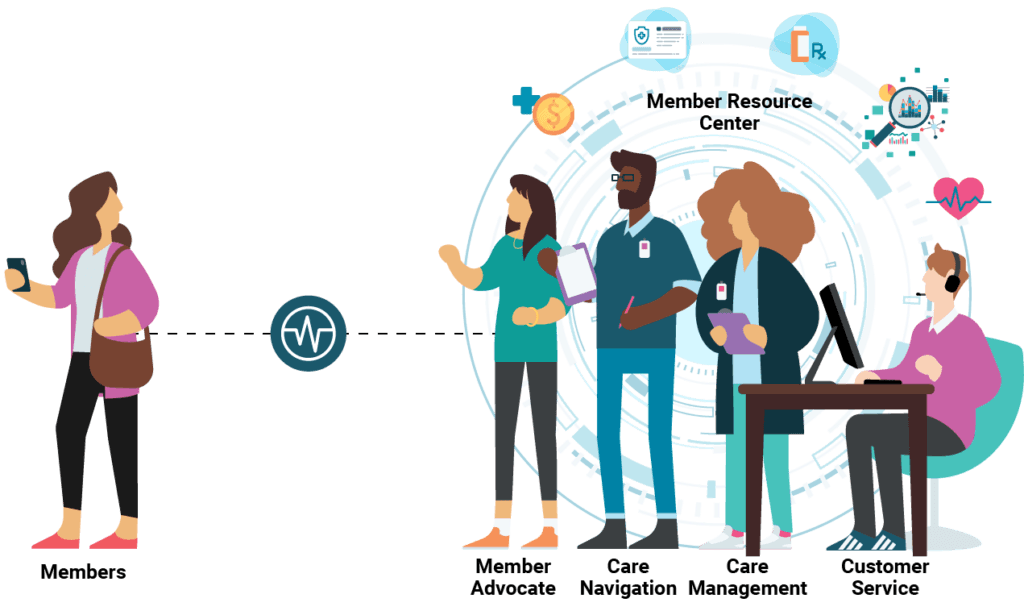 Member journeys with Digital Customer Service
DCS is one more way you can build relationships with members and allow your support team to improve their reach. Within a single dashboard, it can help drive proactive member outreach and enable seamless handoffs between care managers and customer support. Plus, your plan can empower internal teams by transforming workflows.
To demonstrate how a Digital Customer Service offering can impact your members, we'll highlight three distinct member journeys.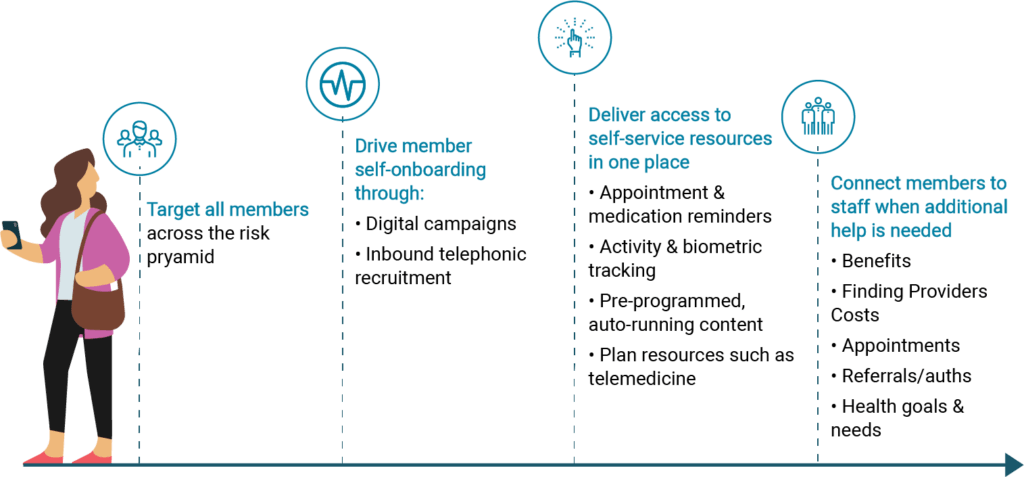 Find and use the right benefits
Members can self-serve by accessing personalized information through a digital Member Resource Center. This educational library includes resources like on-demand articles, care program information, and benefits.
Health plan staff also have the option to proactively message members. Through a secure 1:1 chat, staff can engage with members to help find the right resources. In addition, staff can choose to receive alerts and insights based on member activity.
With Wellframe, all members get an intake assessment when they start using the DCS platform. Their answers help personalize their Long Term Checklist (LTC), which helps keep members on track with their health and wellness goals. Members can even set reminders so they don't forget about appointments or medications.
Help manage daily health needs
With DCS, members can do more than read helpful articles and check off tasks on their Long Term Checklists. The Wellframe DCS solution lets members track physical activity and monitor key health indicators like blood glucose. Plus, data visualizations make it easy to spot trends and anomalies over time, meaning that staff can address Gaps in Care directly.
Based on members' specific needs, health plan staff can proactively enroll them in relevant Care Programs. The care programs come with personalized checklist tasks. Each Care Program includes educational articles, surveys, encouragements, and actions designed to support members towards a specific goal. And plan staff are just a click away via chat.
Members' checklist items and content interactions, answers to survey questions, and health data—like medications taken, steps tracked, and blood glucose readings—are shared with health plan staff in real-time via FHIR-based APIs. This information also appears in the staff Dashboard instantly and triggers alerts and insights that let staff intervene as soon as they're needed.
Answer health questions and resolve issues
Members can discover information in the library of On-Demand Articles and through the personalized Member Resource Center (MRC) in the app. Whether members want to know more about their current conditions or do additional research, clinically reviewed information is available at their fingertips. And, of course, staff can proactively message members based on internal guidance, workflows, and Dashboard alerts and insights.
When members need support beyond self-service resources, they can submit questions through the HIPAA-compliant in-app chat feature. Care Managers, Customer Service, Concierges, and Care Coordinators all have Dashboard access to see member profiles. They can redirect or collaborate to answer members' questions. Staff also have easy access to helpful resources they can drop into the chat.
If a member forgets to check their app, or seeks information elsewhere in a health plan's digital ecosystem (e.g. website or social media), mobile single sign-on and deep linking seamlessly redirect them to in-app resources. In addition, if a member forgets to accept an onboarding invitation, internal onboarding drip campaigns will remind them. Using the platform, staff can set reminders for members or for themselves to follow up.
Staff can get prompts to follow up with members, and have access to suggested message templates. Recurring challenges are identified using natural language processing. For members who engage with the app regularly, asking additional questions is natural and easy.

A digital approach to customer service can help your staff reach more members and build better relationships. The right technology can make it easier for members to get the services and information they need with less hassle.
Specifically, Wellframe's Digital Customer Service offering is designed to engage all member populations by encouraging a holistic approach to health management. Using assessments to elicit member needs, the program surfaces key insights to trigger timely staff engagement and connect members to resources and interventions.
It's more important than ever to engage members through digital platforms. Employing a multi-channel approach helps your plan extend care resources and improve your member relationships.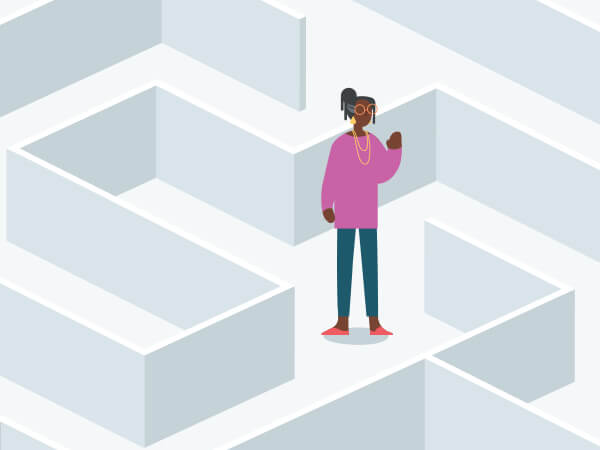 Want to know more about the challenges your members are facing?
Visit our article, 5 critical shifts in the health plan member experience