How to build a care team that supports the whole person
Care management programs typically employ a group of licensed clinicians who are responsible for both reaching out to members and engaging them toward improved outcomes. But a significant portion of the care manager's time is spent calling members—many of whom do not answer—and completing administrative tasks in an effort to document all interactions with members. We've also observed that many health insurance plans tend to organize their teams around particular conditions, which can result in siloed information and support alike.
This means that the member doesn't always get the holistic support they need, and instead must navigate an overwhelming healthcare system to get help with social barriers, understanding their benefits, or coordinating their care. And for the highly skilled care manager, only a fraction of their time is spent actually working with members and providing the support they are trained to deliver.
Based on our experience working with leading health plans, meaningfully engaging more members, more efficiently requires a new staffing approach.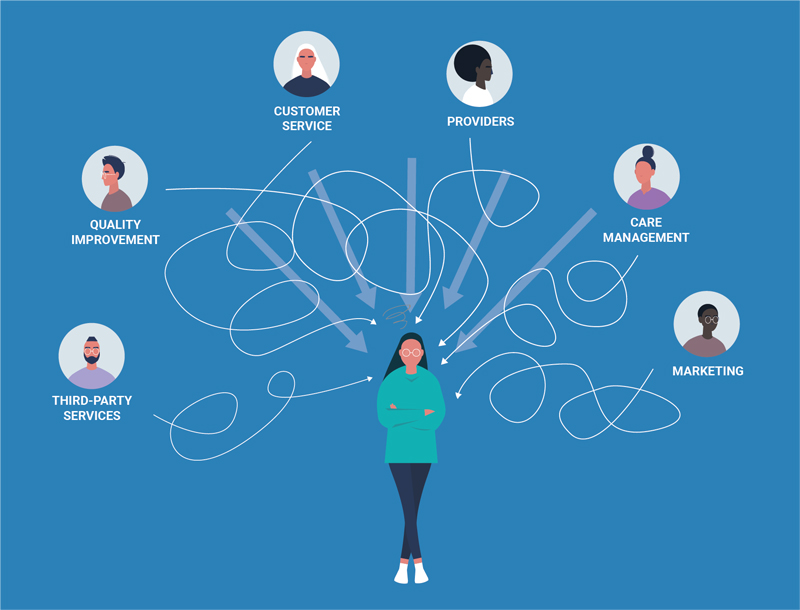 The whole-person care team
Throughout their health journey, your members' needs may be ever-changing, and can often include periods of low risk, when they're not in need of regular outreach from staff. But a triggering health event can require intensive and timely support. That's why an exceptional, holistic member experience requires a multidisciplinary approach, with collaboration across the health plan organization.
To identify and quickly adapt to changing member needs, many innovative health plans are implementing an advocacy strategy, sometimes referred to as a concierge model, wherein the care team includes a staff member serving as a single point of contact to address all member needs. For a low-risk member, the Advocate can help address financial and administrative questions as they arise. If the Advocate learns that the member is in need of additional clinical support, they can triage the member to clinicians who can provide guidance for chronic conditions—or to a social worker who can help address barriers to health.
As a result, your members get the timely, personalized support they need to feel their best and improve satisfaction with their plan. Plus, each staff member can practice at the top of their license and focus on the work they do best.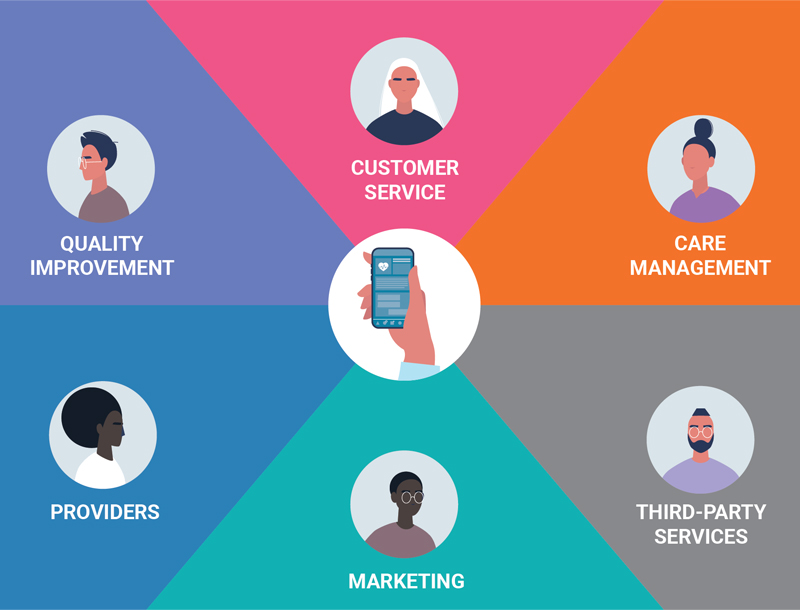 How a digital health management platform can amplify whole-person support
Care team staff may worry that a new digital solution will add more burdensome work to their plates. But the right digital solution can actually help them do the work they do best, more efficiently. Make sure your organization invests in a digital platform that has capabilities such as a prioritized workflow with intelligent next best actions. These capabilities help clinicians avoid information overload and instead surfaces the members and health insights that need their timely attention—as well as recommended next steps. You should also consider time-saving group actions that can help care teams quickly message entire populations to address care gaps, offer encouragement, and more.
Ultimately, digital health solutions can never replace the personal relationships care teams have with members. Instead, they should help staff reimagine the way they can support people.