7 Ways Wellframe makes healthcare easier
Discover how the digital health management app from Wellframe makes healthcare easier. Get the answers and medical support you need to feel your best.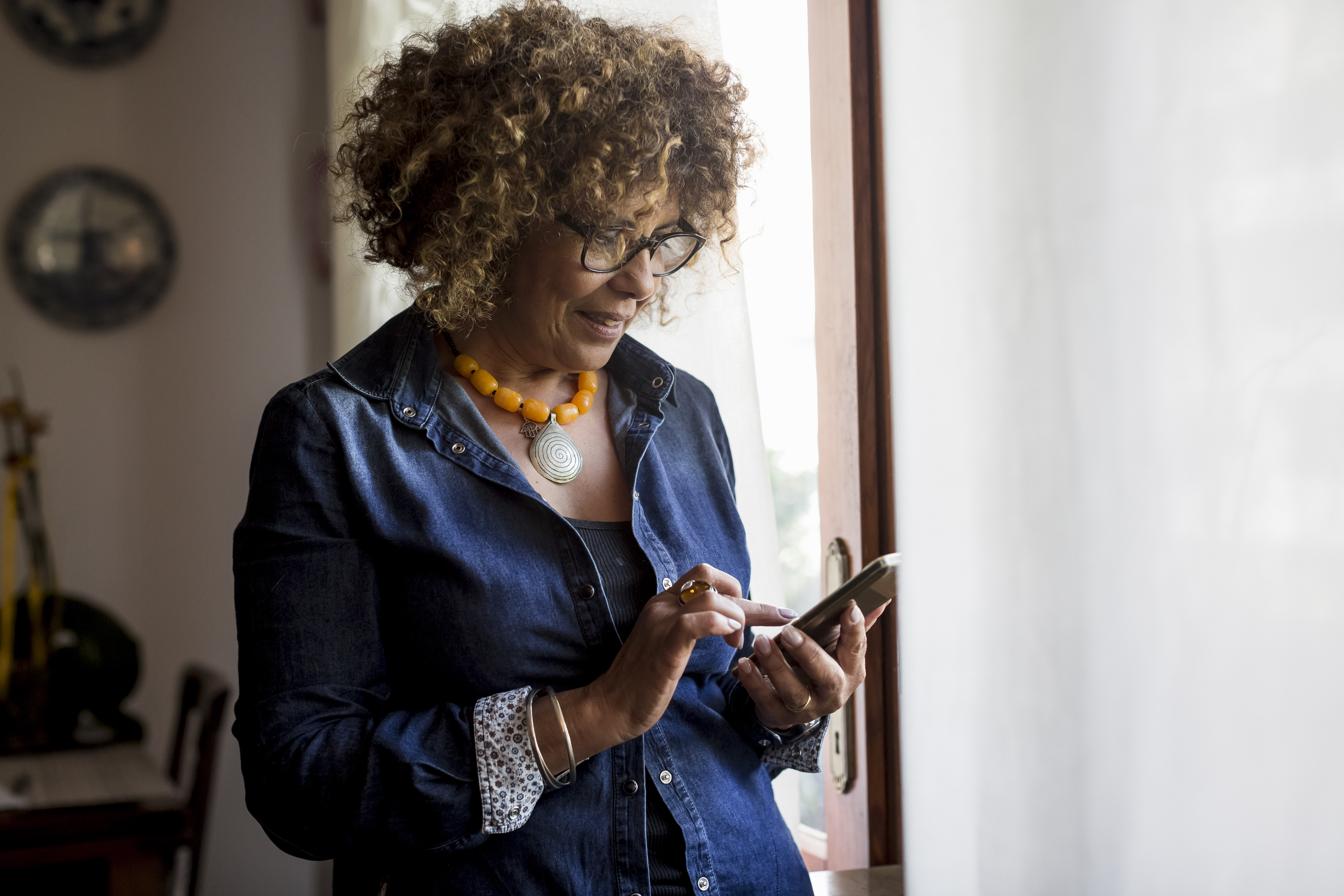 So your health plan is offering you Wellframe, a digital health management app, as a free member benefit. If your first thought is, "Do I really need another app?" you've come to the right place for answers.
"What Wellframe does is give members information so that they can succeed at their health goals," says Susan Beaton, R.N. Beaton is vice president of health plan strategy at Wellframe. "It provides direct access to the teams at the plan. You have an entire team at your service, including nurses, to provide health information and answer your most pressing questions about your health, and customer service team members to help you understand your benefits."
Wellframe's primary mission: To empower you to optimize your healthcare in ways you couldn't before. Here are 7 important ways Wellframe makes healthcare easier and allows you to take control of your health.
1. You can measure your progress and take ownership of your health goals.
The Wellframe app has a built-in physical activity tracker. "Your mobile device will automatically track your steps throughout the day through a built-in step tracker or by syncing to either the Google Fit or Apple Health app," says Beaton.
The app also has a "Me" tab. You can use this to track your progress in the app, including:
The number of tasks you have completed.

The number of medications you have taken in a day.

Progress made within your care program. (For example, maybe you're in a program for prenatal or diabetes support.)

Information about an upcoming medical procedure.

The number of steps you've taken in a day.
"It's a great way to motivate you and give you confidence about achieving health goals, whether it's to keep track of and improve the number of steps you do each day or monitor your activity toward your weight-loss goals," says Beaton.
2. You can research your health questions and concerns with confidence.
The "Library" tab on the Wellframe app holds a collection of educational articles about overall health. "There's a wealth of information, whether you're searching for how to take your blood sugar at home or want to learn the basics of your new health insurance plan," says Beaton. Each article is reviewed by a medical professional. They make sure the information is correct and up to date.
Beaton notes that the "Library" has a collection of educational articles about your health. "These articles may be specific to your condition, procedure, or medications, or offer general healthy lifestyle tips," Beaton says. They also help guide members to the right resources and benefits through a personalized Member Resource Center.
If your health insurance includes special benefits, such as smoking cessation programs, you can find information on that in the library too. Want to bookmark an article to read later? You can save articles to your "Favorites." Simply tap on the star at the bottom of an article. Then come back to it at a better time.
3. You can ask questions and get fast answers from someone who knows you and your medical history.
Wellframe makes healthcare easier by directly connecting you with your care team at any time through the app's "Chat" tab. It's just like text messaging. The only difference: It's more secure to protect your health information. Most often, you'll chat with your health advocate. This person works with you to support a healthy lifestyle. They're not a doctor or a nurse. But they are trained to help with any non-medical questions or goals while you work to manage and improve your health.
They provide "a single access point to reach out to for questions and to walk you through the healthcare maze," says Beaton. Your health advocate can answer questions about your care program, medications, or other health concerns. They can even guide you to the right articles in the library to meet your needs.
4. You can connect with the right medical professionals for your health needs.
What happens if you're chatting with your health advocate and they can't answer your question? They tap in someone who can. "Let's say you have a question about your diabetes outside of a benefit coverage question that the customer service team member can't answer. They can pull in a nurse right away to get on the chat and talk to you," says Beaton. This helps you get the right information quickly. And you get to skip waiting on hold with your doctor's office or pharmacist.
"This single point of contact with a health plan can enhance the member experience. And better member experience leads to greater member satisfaction — and better outcomes," adds Beaton. And if they can't help? They can refer you to the appropriate medical providers in your health insurance network, such as dietitians or social workers.
5. You can join targeted health programs with proven success and true support.
Wellframe can connect you with more than 70 clinical and non-clinical programs. They're all developed by clinicians. Some of the programs on the list:
Diabetes.

Coronary artery disease (CAD).

Chronic obstructive pulmonary disorder (COPD).

Chronic kidney disease.

Smoking cessation.

Stress management.

Substance abuse.

Weight loss.
The app is designed to make it easier to stick with your programs and reach your health goals. In fact, a 2021 study looked at patients with heart disease who used Wellframe's mobile app. It found that Wellframe users were almost twice as likely to complete a cardiac rehabilitation program as a control group. They also lost more weight.
6. You can stay on top of your blood sugar levels.
If you have diabetes, you may be able to take part in Wellframe's Diabetes and Blood Glucose Biometric care programs. How they work: You enter your blood glucose reading and save the data. From there, you'll be able to view blood glucose trends over time. It's a handy way to see how well your treatment plan is working.
You can also talk about your numbers with your care team via the chat feature. And they will be alerted if your reading is above 240 mg/dL or below 70 mg/dL. That way, they can help you figure out ways to better manage your blood sugar when needed.
7. You can stay organized and on top of your health and care.
Every day, you'll have a new list of to-do items in your checklist. These tasks may include:
New articles to read.

Medication reminders that you've set.

Check-in surveys for you to complete for your care team. (Your care team uses these surveys to stay connected to you and keep updated on your progress.)
When you complete the tasks each day, your checklist will refresh and show new tasks the next day.
"People really need this. Most of us find we have a lot to manage with our health, whether it's getting help to schedule a ride to a doctor's appointment or needing a reminder to take our medications," says Beaton. If there's a gap in your care — for example, you don't fill a certain prescription — a member of the care team will reach out to find out why.
"These real-time prompts and insights can help members stay on track and engage with their health," says Beaton. "This provides an opportunity for the care managers to intervene earlier in the member's healthcare needs."
For more tips on getting the most out of your health insurance benefits, ask your health plan if you're eligible for Wellframe.
---
Sign up for the Well & Wise newsletter!
Interested in receiving more information on managing your conditions and healthy living? Sign up for our monthly Well & Wise newsletter to get helpful articles and insights right in your inbox!