Prenatal care information Black women should know
It might not surprise you to learn that racial disparities in healthcare can affect your care. Here is some key prenatal care information Black women need to know—including ways to protect the health of you and your baby.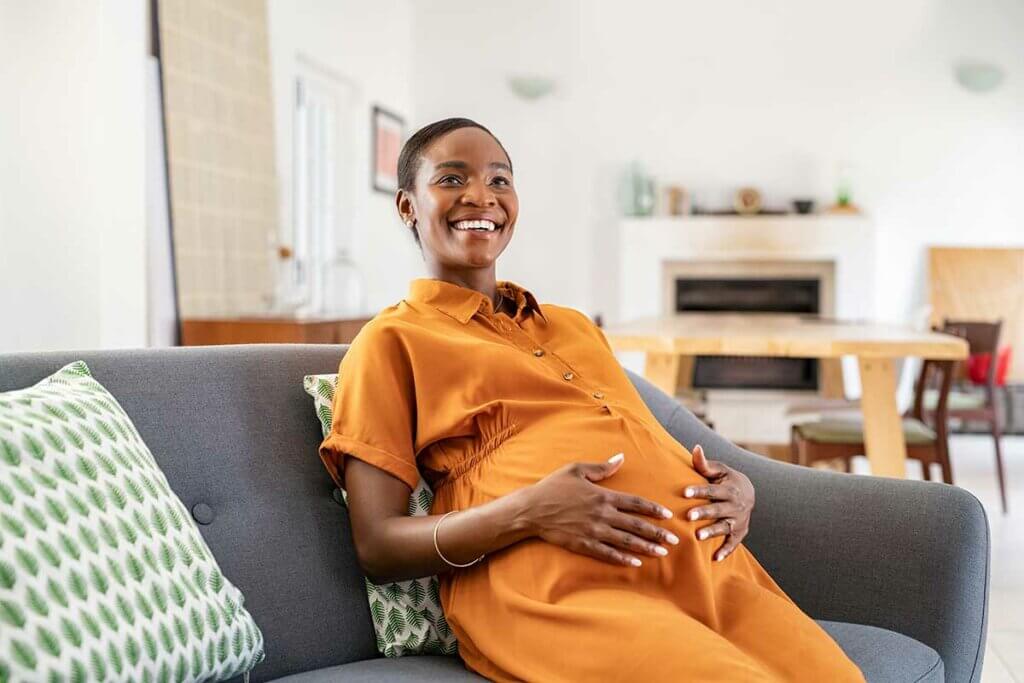 For most people, being pregnant is a time of excitement and joy. Worries tend to be about harmless things, such as tying up loose ends at work and packing a to-go bag. They shouldn't be about your health — or your baby's health — being in danger.
Sadly, that fear is real for Black women. Every year, about 700 women in the U.S. die due to a pregnancy complication, reports the Centers for Disease Control and Prevention. Black women are 3 times more likely to be affected than white women. That risk goes up for Black women over age 30 and for Black women with a college degree.1
Why the huge difference? And how you stay informed about your health and potential risks? There's no simple answer, but here's the prenatal care information Black women should know, according to experts.
Why Black women have a high risk of pregnancy complications
"The reasons we see the shocking racial disparities in maternal health outcomes in the U.S. are complex," says Neel Shah, M.D., chief medical officer of Maven Clinic. Dr. Shah is an assistant professor of obstetrics, gynecology and reproductive biology at Harvard Medical School in Boston.
For one, doctors are just as likely to have bias as anyone else. That can have a negative impact on the care they offer to Black patients, and Black women in particular. This could even influence how providers perceive complaints of pain and other symptoms from patients.
Black populations are also less likely to have access to vital services like reliable transportation, childcare, and nearby care facilities than white populations.
"It increases the likelihood of missed appointments and of less follow-up care and medication use," says Valinda Nwadike, M.D. Dr. Nwadike is an Ob-Gyn hospitalist at Luminis Health Anne Arundel Medical Center in Annapolis, Maryland. Without the right care and medication, both parent and baby can suffer.
Black people are also more likely to have high blood pressure and diabetes, Dr. Nwadike says. This is partly due to genetics. But social and environmental factors also play a role. These conditions can cause complications during and after pregnancy. They're especially dangerous for Black women who can't be closely watched by their doctors.
Not every health concern is as easy to measure as blood pressure levels. Often, Black women deal with everyday discrimination. This raises their risk for bad health outcomes.
"Many Black women face barriers to accessing healthy food, safe exercise options, and toxin-free environments," Dr. Nwadike says. They are more likely to suffer physical violence from an intimate partner than white, Latina, or Asian/Pacific Islander women. And rates of sexual violence and homicide are also higher for Black women. All of these factors — poor diet, lack of exercise, toxin exposure, and extreme stress — can harm the health of both parent and baby.
"A recent study revealed that a single major stressful event in early life equals 4 years of cognitive aging," Dr. Nwadike says. "On average, African Americans experience over 60% more of these events than non-Hispanic whites in their lifetime."
Many health plans offer prenatal and postpartum health management programs for their members at no extra cost. To learn how to get the most out of your health benefits, ask your health plan about digital health services like Wellframe.
How to get the healthcare you deserve
Knowing why racial disparities exist can help us figure out how to address them. Dr. Shah urges healthcare providers to begin by turning inward. "Let's start with the basic understanding that surviving pregnancy is the bare minimum of what we owe pregnant women," Dr. Shah says.
Both Dr. Shah and Dr. Nwadike agree that more Black doctors will mean better care for Black patients. "We must invest in the healthcare workforce, with a special focus on ensuring that the provider population looks like the patient population," Dr. Shah says.
It's also important for Black women to speak up for themselves. "I tell patients that they are the experts in their pregnancy," Dr. Shah says.
To do that, the CDC recommends that Black pregnant people and their families:3
Talk to a healthcare provider any time something doesn't feel right.

Know the warning signs of serious pregnancy-related problems. They include:
Serious headache.

Vision changes.

Severe swelling.

Extreme tiredness.

Mental health changes.

Vaginal bleeding or discharge.

Ask medical providers how they plan to watch you during and after your pregnancy. Be sure to talk about health concerns such as high blood pressure and diabetes.

Keep a record of your entire pregnancy history. That includes notes from each medical visit for up to a year after delivery.
An allowance for buying healthy foods and over-the-counter health products.

Transportation to and from doctor appointments.

Care management programs. They can help you deal with conditions such as diabetes.

Tools such as the Wellframe app. The app can connect you with a personal healthcare advocate. They can help you get the benefits and resources you need for a healthy pregnancy.
Finally, Dr. Shah suggests choosing medical providers who can talk about the racial disparities in healthcare. They should be able to share how they have tailored their approach in response.
"For providers, that means actively addressing our own biases, growing our knowledge base, and, most important, listening to patients and affirming their experiences," Dr. Shah says.
---
Sign up for the Well & Wise newsletter!
Interested in receiving more information on managing your conditions and healthy living? Sign up for our monthly Well & Wise newsletter to get helpful articles and insights right in your inbox!