10 healthy and fun activities to keep your family active
If the kids refuse to do yet another dance party or bread-baking session, it's time to get creative. Steal these fresh ideas for staying healthy and fit from parents who've been there and done that.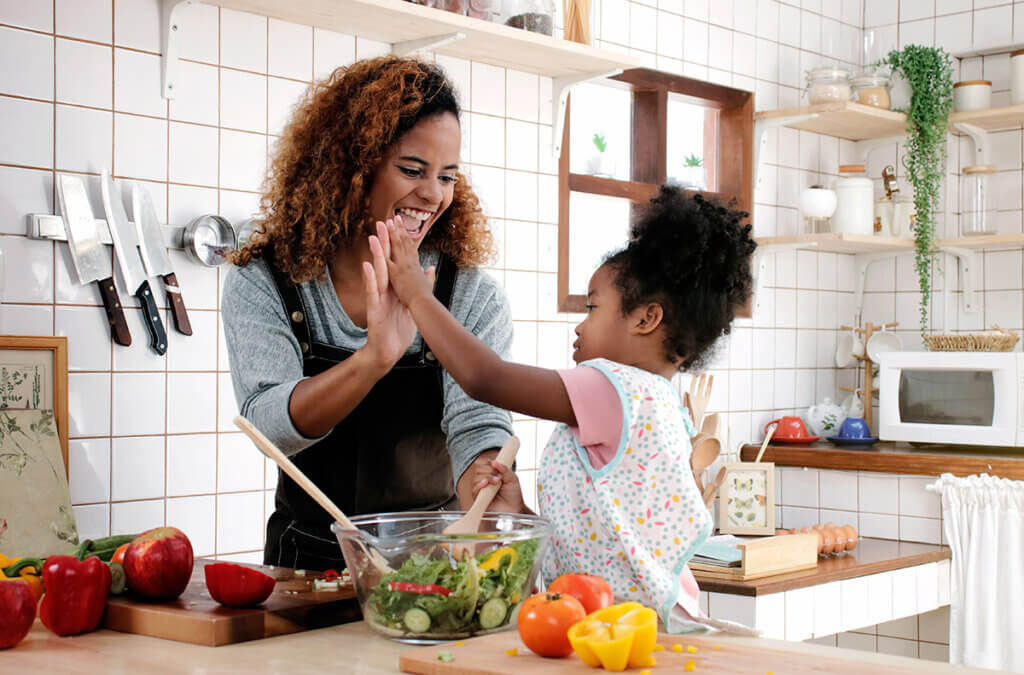 Thanks to the COVID-19 pandemic, many parents are spending a lot more time at home with their kids. If you're among those parents, you may have already used up all of your ideas for healthy and fun activities. To the rescue: Other parents who have been in your shoes and discovered new ways to keep their kids entertained on a budget. Fresh from the real-world testing grounds, here are 10 kid-approved ways to keep your family healthy and have fun doing it.
Playground Crawl
Chances are, you go to the same handful of parks and playgrounds when it's time to let your little ones burn off steam. To mix things up, try visiting multiple playgrounds in one day, says Catherine Ryan Gregory. Ryan Gregory is a parent of 2 and the author of 50 Fun Staycation Adventures for Kids. She suggests spending a half hour at one. Then make your way to another one for 30 minutes, and so on. "You're creating your own mini tour of your town's parks," says Ryan Gregory. "You can even rate and review each one together."
DIY Fancy Photo Shoot
Family portraits are a regular tradition in many families. But thanks to smartphones with high-tech cameras, you don't have to pay a pro to take your pictures. Instead, Ryan Gregory suggests staging your own family photo shoot. "Get everyone together for a photo of all of you that isn't a selfie. You can set up props, choose outfit changes, or even go full-on glamour."
Your health insurance may do more than you think to support your family's health. To see if you quality for the Wellframe app, reach out to your health plan.
To set up, put your phone or camera on a tripod, table, or pile of books. It can be indoors or out — it's up to you. Then aim it toward the family. Use the timer feature so you can dash in and get everyone in the frame. "You can also use my favorite technique: Tell the kids they'll get ice cream if they actually smile nicely at the camera," says Ryan Gregory.
Sensory Tub
Sensory tubs are large plastic tubs or containers filled with items that help spark a little one's senses. They're a hit with kids under 5. (And they're a staple in many preschool classrooms.) Olivia Burley recreated the fun at home for her 2 children. "I just used a clear plastic bin — the kind you store stuff in under the bed — and set it on a low table," says Burley. "We would do it outside or inside with a tarp or plastic tablecloths underneath."
Each time, Burley filled the tub with something different: pasta, shaving cream, rice cereal, water and dishwashing soap. "The most popular with my kids were water and dirt," says Burley. "I would toss in some cups and plastic scoopers and let them fill and dump."

You could also turn the tub into a treasure hunt. "My other huge success was getting a bunch of fake jewels from a craft store and burying them in the tub filled with dirt," says Burley. "The kids would wake up and get so excited to start digging."
Geocaching
Geocaching took off during the pandemic. It's a way to use the GPS navigation technology on your phone to find hidden treasure spots left by other geocachers. "It's part hiking, part spy game," says Lisa Maxbauer Price, parent of 3. "My kids started geocaching with their cousins on vacation. When we got home, we started doing it in our own town."
Price's family downloaded the free Geocaching mobile app, which is easy to use. Simply open the app and follow the instructions to locate a nearby geocache. Then start walking, using the map as your guide. Price loves how geocaching takes the family on surprising adventures.
"One time our hunt led us to a hole at the base of a tree. We could see the treasure box we were supposed to retrieve. But there was a porcupine sleeping on it. So we let it be," says Price.
A few tips from Price for those who catch the geocaching bug: "We went on Etsy and had a rubber stamp made for our family to use when signing into the geocaching logs you find in the treasure boxes. We also make sure to always have a writing utensil and a small 'treasure' like a shell or tiny toy in the car in case we decide to geocache when we're out and about."
Farmers Market Iron Chef
It can be easy to make healthy and fun activities out of food. But if you're like most families, you've got the same go-to meals on regular rotation. And maybe you're all feeling a little bored by the routine. Ryan Gregory's fix for this one: "Try going full-on Food Network. Shop at the farmers market for a few ingredients you've never used before. Together, research a recipe that uses your finds."

Then, hit the kitchen as a family to make the recipe. Or go for an Iron Chef challenge and invent a meal without a recipe, Ryan Gregory suggests. No year-round farmers markets in your community? Ryan Gregory has also used ingredients from a local ethnic grocery store.
You could also add a budget challenge: Give your kids a certain amount to spend and challenge them to come in under the mark. They'll learn to be smart comparative shoppers. Plus, they can practice their math skills along the way.
Movie Remake
Although she didn't invent the idea, Jess Strickler says that this one is not only fun for the kids but also sure to make the grown-ups laugh. The gist: "Give kids a movie title and have them write and act out their own script — without knowing the context of the original movie," says Strickler, parent of 2. "I got the idea from a drama teacher. You can imagine many movie titles that would really make for fun skits to act out." Jimmy Fallon does something similar on his late-night show. A Strickler family favorite: The Grinch. "They acted it out multiple times when they were younger. The only consistent part was a 'green guy.'"
Mural Masterpiece
Another great project from Ryan Gregory, this one is perfect for all the little Picassos in your family. Kids who get a thrill out of breaking the rules and scribbling on the walls will also love it. (But it's way less messy, we promise!)

Pick up a roll of kraft paper. You can buy it online or at an office supply or art supply store. Cut a long piece and tack it to the wall. "The longer the better," says Ryan Gregory. If you can, stretch the paper along the entire hallway. Then turn the plain paper into a work of art. "I find that tempera paint sticks or tempera crayons work best," says Ryan Gregory.
Retro Recess
Teach your kids how to play the games you loved in elementary school, says educational psychologist Michele Borba, Ed.D., who is also a parent of 3 and the author of Thrivers: The Surprising Reasons Why Some Kids Struggle and Others Shine. If you have some sidewalk chalk or any kind of playground ball on hand, start a game of four square or kickball. Or draw a hopscotch grid and get hopping. And a few jump ropes are all you need to try some Double Dutch.
Scavenger Hunt Collage
Start by creating a list of small items that might be found in your backyard or a local park: a pinecone, a round rock, a red flower, an oak leaf. Then send your kids off with the checklist. Tell them to collect as many items on the list as they can find within a certain time frame. Burley turned the hunt into collage-making by giving the kids a clipboard, a piece of construction paper, a roll of tape, and a pen.
"Simply putting paper on a clipboard is a game-changer for kids. I don't know why, but they almost universally love it," says Burley. "They would just collect little things and tape them to their clipboard." When the hunt is done and you're back home, you can hang their collages on the fridge. Or dedicate some space on the wall for a gallery.
One more idea: Skip the tape for a more sustainable activity and tell your kiddos to collect colorful flowers and interesting leaves for pressing. To press, simply put them on a piece of recyclable newspaper or cardboard and place another piece of paper or cardboard on top. Then close the flowers or leaves inside a book and set a heavy weight on top. Give them 2 to 4 weeks to dry.
Nature Quest
Go on a family adventure with the goal of finding 3 different signs of animals. Look for feathers, tracks, pawprints, or scat, suggests Katy Bowman. Bowman is a parent and author of Grow Wild: The Whole-Child, Whole-Family, Nature-Rich Guide to Moving More. Or take what Bowman calls a "bouquet walk." Collect an assortment of wildflowers. Then come home and make an arrangement together. Put it on the dinner table as a reminder of your fun time together.
---
Sign up for the Well & Wise newsletter!
Interested in receiving more information on managing your conditions and healthy living? Sign up for our monthly Well & Wise newsletter to get helpful articles and insights right in your inbox!