What is Member Advocacy?
Advocacy is not something you can buy. Instead, think of Advocacy as a service model—and a state of mind.
Every health plan leader has a different image of how to best serve their members. Many health plans are taking steps toward digital transformation and digital health management. But there's more to improving the member experience than meeting them online. Enter Member Advocacy.
When you think of Member Advocacy, which definition comes to mind?
A product or solution you can purchase from a vendor
An optimized customer service workflow solution
A buy-up for large employer groups or ASOs
Actually, that was a trick question. Member Advocacy isn't something you can buy. Nor is it a concierge service you can offer to members as-is. While the right vendor, customer service, and buy-ups are integral to your health plan's success, they're all pieces of a larger puzzle. Instead of seeing Advocacy as an endpoint, we challenge you to use it as a mindset for mapping your health plan's future.
Our definition of Member Advocacy
If Advocacy isn't a product, workflow, or buy-up, what is it?
Advocacy is a holistic health plan service model. Health plans can offer the most value to members through Member Advocacy. It addresses member needs with technology rather than relying on point solutions.
Health plans leveraging an Advocacy model achieve the following:
Provide a proactive and integrated approach to serving members
Give members a single, convenient point of access for information
Become trusted allies in helping members achieve health and care goals
While many of these components may sound familiar (and are related) to digital transformation, there are a few key differences. Digital transformation refers to technology integration across an organization. Advocacy is the overarching model that leverages these vital technologies. So how can a health plan work toward Member Advocacy?
How can health plans achieve an Advocacy service model?
Health plans can achieve an Advocacy service model by unifying their teams and systems. Such an integrated approach facilitates conversations between staff, care teams, and members. Staff and care teams can access and exchange member data, resources, and other information faster and more securely. Leveraging a unified system also creates more seamless hand-offs within and across teams.
Under a traditional telephonic system, a member would call a 1-800 number and talk to a Care Manager. The care manager may then put the customer on hold to transfer them to a Customer Service Representative. Then the member will have to explain their situation again, and spend valuable time sitting on hold.
Using an Advocacy model, members may have access to a secure, text-based chat with their Care Manager. A Care Manager could add a Customer Service Representative to the chat when requested, and review the information already exchanged.
In addition to the above integrations, health plans need to be proactive in member communications and outreach. Effective care management includes empowering members to take charge of their own health needs. Often, this means giving members the information and resources they need to prevent or manage chronic conditions.
With Member Advocacy, these offerings could look like:
Customized short- and long-term checklists
Educational articles on health management
Accessible explanations of health plan benefits
Digital surveys that identify gaps in care
An Advocacy model leverages a suite of member-focused solutions that improve relationships. But why should health plans own Member Advocacy?
As a health plan, you already have the information and resources necessary to address member needs holistically, at scale. Your health plan can avoid intermediation by taking ownership of the entire member experience.
Compare the member experience
Traditional vs. Advocacy-based care management
What is the difference between addressing member needs with digital care management over traditional care management? Below, we outlined the experiences a member may have with each approach when reaching out with a question.

How can you improve the member experience with Advocacy?
Advocacy goes beyond digital care management. With an Advocacy model, your plan will own the entire member experience. This means your members no longer have to call multiple 1-800 numbers or visit multiple websites to figure out what to do or how to get their questions answered. Instead, they have a single destination with information on health plan benefits, healthcare resources, and care management.
Member Advocacy also makes is easier to:
Support members in navigating their health, care, and benefits
Improve benefits utilization and care outcomes
Empower your internal teams by transforming workflows
Address member needs holistically by using one comprehensive solution
Advocacy supports members across the risk pyramid. Your members can do their own research with relevant articles on caregiver support, COVID-19, benefits utilization, and more—in addition to comprehensive care programs. They can also access personalized resources and connections to the right staff member when they need it.
If Member Advocacy seems like an intimidating mountain to climb, remember that you don't have to do it alone. Choosing the right partner in digital transformation is the first step in empowering your team to implement a new service model.
---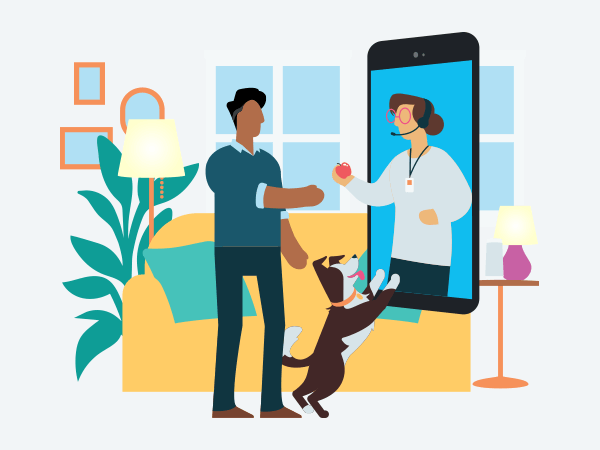 Is your health plan ready to take the next step toward an Advocacy model?
Let's start with understanding how you can best serve your members.