The industry landscape for achieving digital transformation
More than 50% of consumers would rather go through the frustration of tasks like waiting at the DMV or going to jury duty than deal with a health insurance issue. So it's no surprise that digital-first health insurance plans and outsourced engagement platforms are siphoning off business and market share.
But it's still possible to deliver the convenient experience your customers expect. The key is achieving digital transformation. But what exactly does that mean?

What is digital transformation?
Digital transformation refers to the integration of technology into all areas of a business. For health plans, the purpose of digital transformation is to solve clinical and operational pain points. The right technologies can maximize operational efficiency and improve member experience.
Digital transformation includes technologies such as AI and digital health management, as well as standards like FHIR. Member-facing mobile apps, staff dashboards, and data processing solutions are all included under digital transformation. So how can you best leverage them?
How does digital transformation support my health plan's initiatives?
Improving your member experience is critical to winning and retaining your market share. Members want convenience, simplicity, and on-demand information.
Digital transformation enables your health plan to serve your members and customers in the ways they've come to expect. When so much can be done using a smartphone, why not care management? The right digital tools can help your plan capture and create value, improve quality performance, personalize the member experience, influence care outcomes, and more.
Are you struggling to move from individual telephonic touchpoints to a continuous member journey? Digital transformation can help. Offering members the opportunity to self-serve with informational articles and frequently asked benefits questions can free up your staff to spend more with higher-risk members. Digitized content also gives members a jumping off point to inform phone conversations with care managers.
Whether you're using technology to streamline administrative work or better connect with your members, there are several options for you.
How can I find the right digital transformation solution?
Choosing the digital transformation path that's right for your health plan starts with understanding your goals. Gather your key stakeholders and ask questions like:
Is your focus on administration, member experience, or both?
Do you want to outsource, or do you want a partner?
Does your current solution have the appropriate infrastructure to scale?
What is your business roadmap for the next 5 years?
Which resources does your health plan have to build and develop new technologies?
Answering these questions at the beginning of the process will help you narrow down your options and pick the vendor that best fits your needs and your budget. They will also help you set implementation milestones so your team stays on track.
So what are your options?
1. Outsource to competitors
One option is to outsource your technology ownership to a third party vendor. The vendor takes responsibility for implementation and rollout to members, giving your health plan more time to focus on other initiatives. This option may feel the most like a "plug-and-play" solution.
The downsides to this solution are that they may erode brand loyalty and diminish member perception of your value. Any member-facing technology would be controlled by the vendor. This means the dashboards your members use would follow their brand guidelines, and members would be talking to the vendor's support team.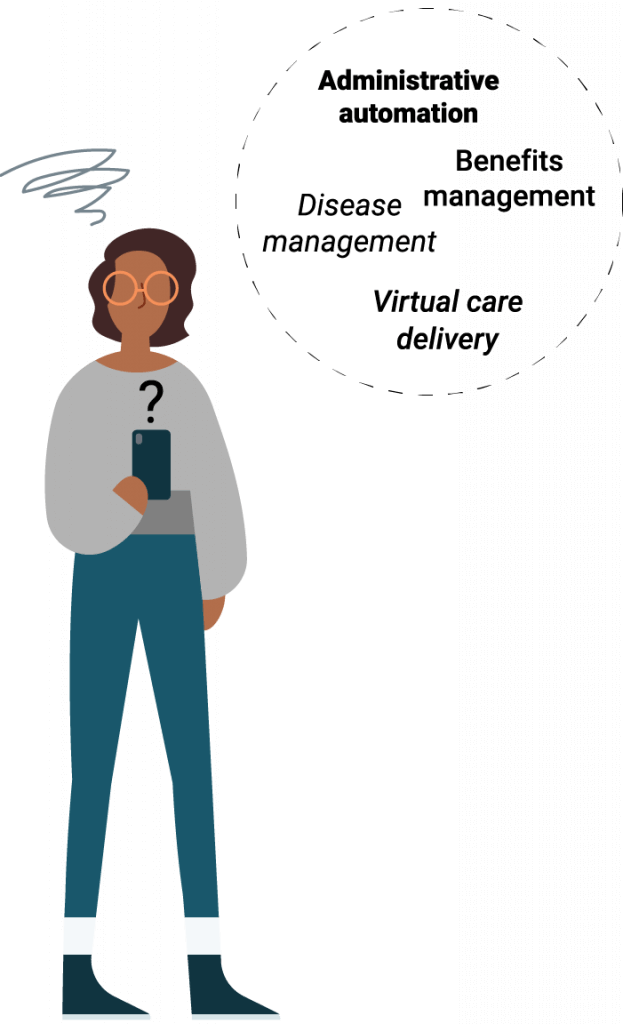 2. Rely on point solutions
Another option your plan has is to create a custom suite of point solutions. This enables you to pick the individual vendors and technologies that serve your needs in specific areas. You could choose one vendor for secure video calls, one for patient portals, one for staff efficiency, etc.
However, this creates a few separate issues. The primary concern is interoperability. Your team would have to ensure the disparate technologies work together without costing extra time or money to convert data. Using point solutions may also overwhelm members and customers, since they will have to keep track of multiple apps and login credentials. Offering a fragmented experience like this could negatively impact user experience and decrease your renewal rate.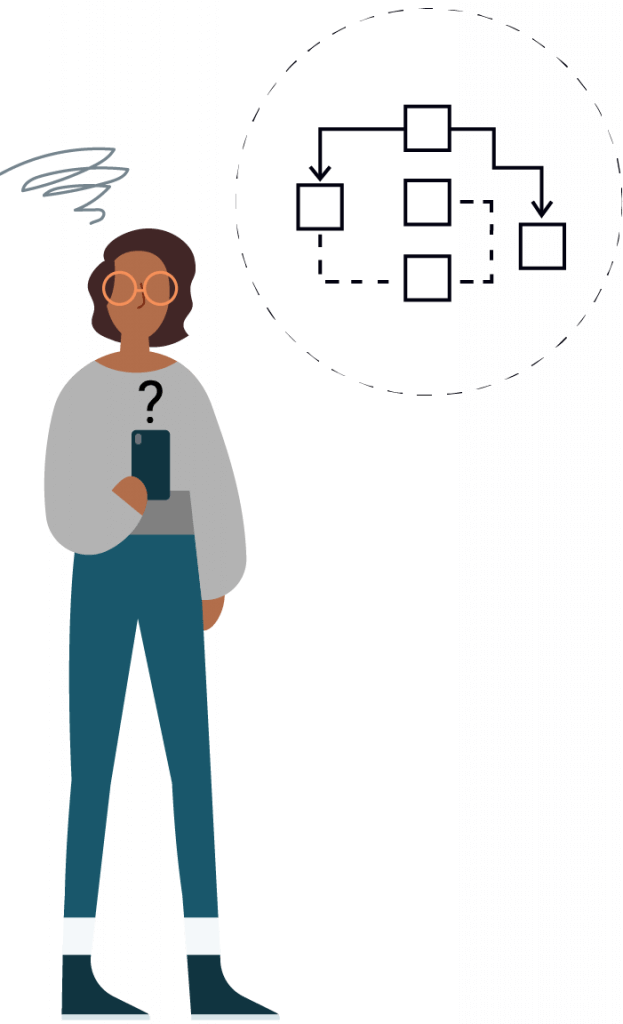 3. Build your own platform
Building your own platform would allow you to create the most customized technology based on your needs. All customer- and member-facing experiences would center your brand. And all member and staff experiences would be within your control.
But there are reasons more health plans don't try this approach. Because you're building a technology solution from scratch, it will take longer to bring it to market. Custom solutions are also resource-heavy, and can be expensive. Building new technology requires input from developers, UX designers, data scientists, consultants, and other experts.
4. Choose a proven partner
Finally, your health plan has the option of choosing an established technology partner. A true partner can offer a proven platform, with the ability to customize certain aspects based on the needs of your plan and your members. Customizations could include co-branding, which can improve member loyalty and build trust in your brand.
A partner may also offer educational content on diagnoses and health benefits you can deliver to members. Some partners also help you market to your members, increasing adoption and engagement. This option can help scale your vision, while ensuring you maintain control over member relationships.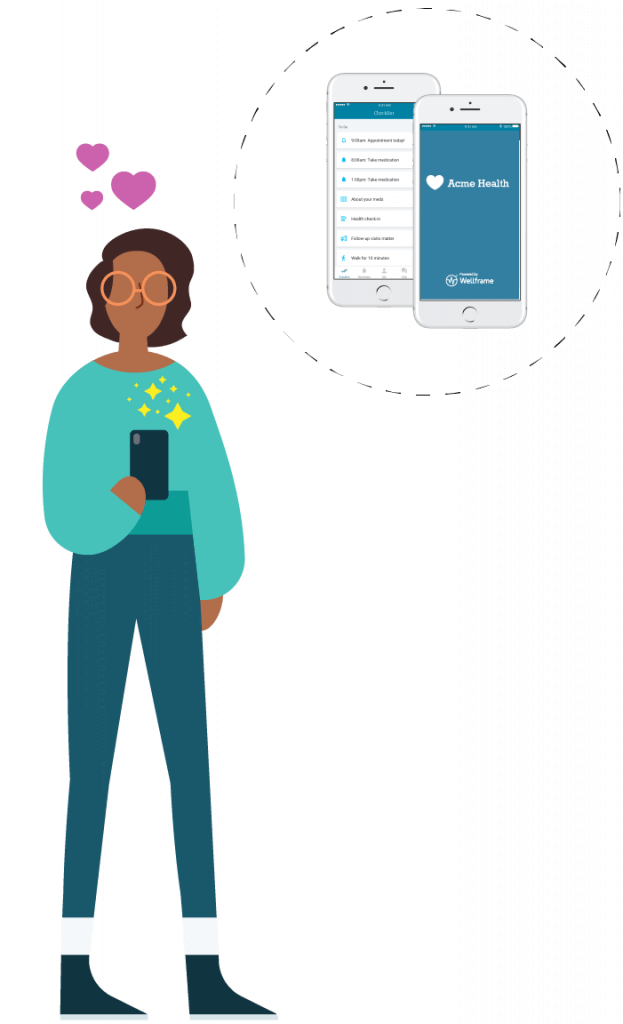 Connect members to support on their own time
According to data from Wellframe's COVID-19 Chronic Condition Patient Population Report, more than half of chronic condition patients have delayed receiving care as a result of the pandemic, either due to their doctor's recommendations or their own reluctance to go to a medical facility. With the right digital health management platform, health plans can offer their members HIPAA-compliant mobile messaging with health plan staff, ranging from care managers to customer service reps. By meeting members where they are, health plan staff can help members stick with their care plans, monitor symptoms, promote healthful behaviors, or answer questions about healthcare benefits.