3 steps to identify & address social determinants of health
Social determinants of health (SDOH) have costly impacts. So it's no surprise that many health plans are implementing digital solutions to improve member services. Despite having these resources, health plans still face obstacles in identifying these social barriers. To address social determinants of health, your plan must give members the relevant health information they need.
How can your organization overcome these challenges? Here's our three-step strategy for using technology to better identify and address social determinants of health.
1. Uncover when a member faces a social determinant barrier
2. Surface the health barrier to the member's care team
3. Guide the member to the right resource or benefit
STEP 1
Uncover when a member faces a social determinant barrier
Care teams often struggle to reach, engage, and enroll underserved populations in care management through traditional telephonic outreach. Many members don't have a home phone, may frequently change addresses, or are unable to answer calls during business hours. But with a digital health management platform, your organization can capture day-to-day information on member needs and behavior that you wouldn't have access to otherwise. Here's how to uncover social determinants of health by establishing a digital member engagement channel:
Use communication channels that make it easier to uncover insights, such as texting or video chat
Build a long-term relationship by supporting members' whole health with personalized education
Deliver mobile surveys that can identify social determinant factors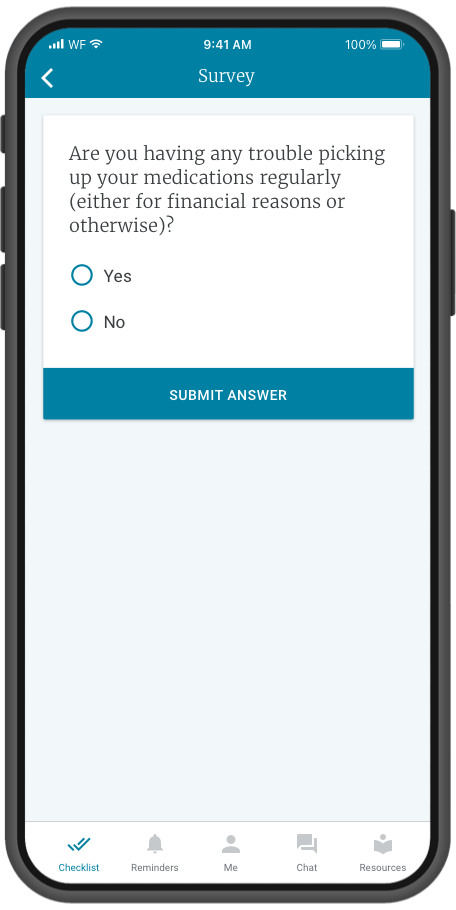 STEP 2
Surface the health barrier to the member's care team
A digital platform can generate unique and valuable data and more frequent touchpoints and can help build a human relationship that uncovers nuanced insights. But an important step to helping patients is leveraging technology to get this information in front of the right people. One of the uses for digital platforms is keeping care managers, such as on-staff nurses or counsellors, informed of the barriers patients have identified and creating relationships that let them get to know patients so that they can help them find solutions. For example, if a patient shares that they're unable to access certain healthcare services, care teams should have enough background on the patient to direct them to resources that are accessible to them and fit their specific needs.
The digitally-enabled workflow
STEP 3
Guide the member to the right resource or benefit
We know that health plans are investing in new partnerships as well as new staff members and resources to address a broader range of member needs. But these resources cannot be effectively utilized if members aren't connected to them in the first place. As the first point of contact with the member, care managers should be equipped with a platform that enables them to seamlessly triage member needs and connect them to the right services, from specific health plan programs and resources to specialized staff, such as social workers, behavioral health specialists, dieticians or pharmacists.
By streamlining these resources through a digital health platform, the care manager is able to follow up with each staff member to confirm that the member's social barriers were addressed. The care manager can also provide ongoing follow up and support to the member to make sure they have the health guidance and resources they need.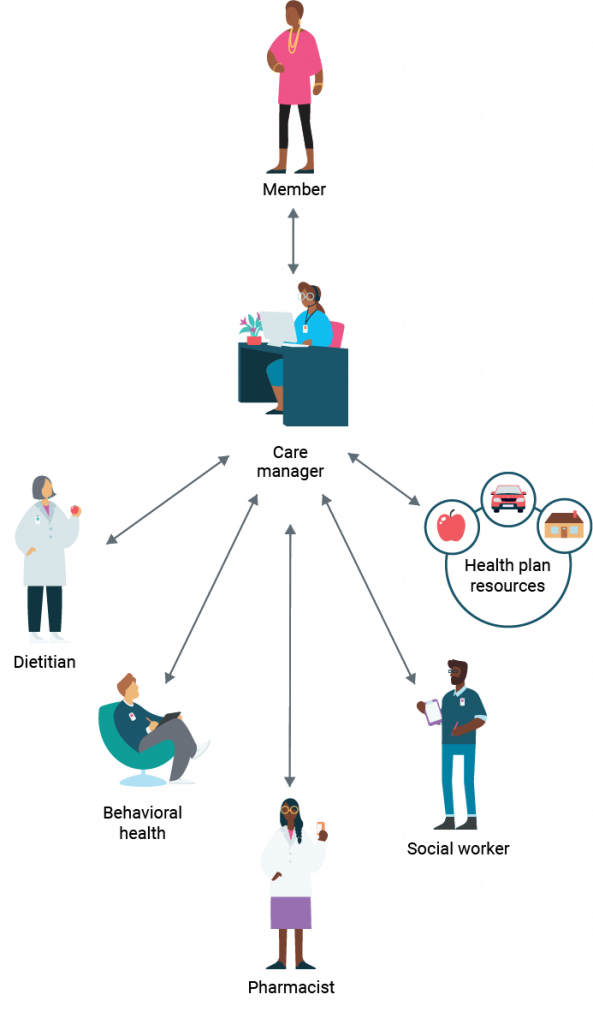 Key takeaways
Though health plans are investing in benefits to address social determinants of health, most don't have a way to actually connect members to the right resources at the right time. Make sure your organization has a digital health management strategy that can help you address these barriers by taking these steps:
1. Uncover when a member faces a social determinant barrier
2. Surface the health barrier to the member's care team
3. Guide the member to the right resource or benefit